Best ski touring trips with a fjord view from Voss.
Voss is a fantastic base for discovering the fjord region of Norway with skis. Although Voss is not exactly coastal, it is equidistant from Hardanger and Sogn, the two longest and most dominant fjords in Norway. From the mountains of Voss you can access breathtaking views high above the fjords.
These mountains offer all kinds of ski terrain. Here is a selection of the most panoramic ones!
The terrain above the fjords in Vestland is quite particular, mountains are vast and cover the landscape in a very particular way. From the fjord, mountains tower up in such a way that it almost seems to defy gravity. That tends to be for the first 1000 to 1200m of elevation. In winter this stripe of terrain is often covered by shining frozen waterfall and in spring they will most likely be green and vegetated. However, what we cannot seem from the fjord, is that on top of these cliffs there are vast mountains covered in snow, all the way till far in june. This concept is a bit hard to understand, and that is why we made this video!
Breiskrednosi. 1189m over the Nærøyfjorden.
Here you can see how we start our ski trip from an inland valley covered in snow. This excursion was done in late spring. Gradually we come above the mountains to ski above the fjord. Breiskrednosi with its 1189m may not be the highest mountain of the region, but this may be the best view over a fjord in Vestland. We are not the only ones that think that, as Breiskrednosi as well as the whole landscape around the Nærøyfjorden is a UNESCO world heritage site.
Breiskrednosi offers different tour alternative to its summit, the tour is long, but it is possible to make it through terrain of easy to moderate diffuculty, making it a plausible expedicion for beginners and families. The peak is remote, so we tend to suggest our customers to do it as part of a several day overnight trip with a base at a remote cabin, or taking the retour by boat.
Bakkanosi
Bakkanosi is in close proximity to Breiskrednosi. Actually, the picture below is taken from Bakkanosi, and you can see Breiskrednosi on it, further down the fjord.
Bakkanosi is a long hike, 20km both ways. You will need to be fit to make it, but the terrain that we cover is suitable for skiers that are learning to ski tour, or that do not have high technical downhill skills. More challenging routes can be taken as well. However, the normal route follows a well worthy valley. The terrain is beautiful and we cross a mountain farm with a lot of history.
Oksen. The pearl of Hardanger.
Hardanger is the second longest fjord in Norway, after Sogn, but has a very different character. Sogn has long branches, tends to be narrower in those divisions and is quite steep on its sides. In a way Hardanger is majestic in a kinder way. It is a very broad fjord, with slightly less steep edges, gets more sun on its valleys…Perhaps that is why is often called the queen of the fjords, but most important, those atributes make really good ski terrain!
Oksen, means bull in Norwegian. This mountain is supposed to look like the strong neck and head of a bull from the fjord. This means that first of all, Oksen is a prominent mountain. But even more special, is that Oksen is at the point where the main fjord divides into narrower fjords. From the top of Oksen you get to see four different fjords of the Hardangerfjord. That is a killer 360 view, and no wonder, why Oksen is an instagram highlight. However this top hardly gets crowded and offers really interesting skiing.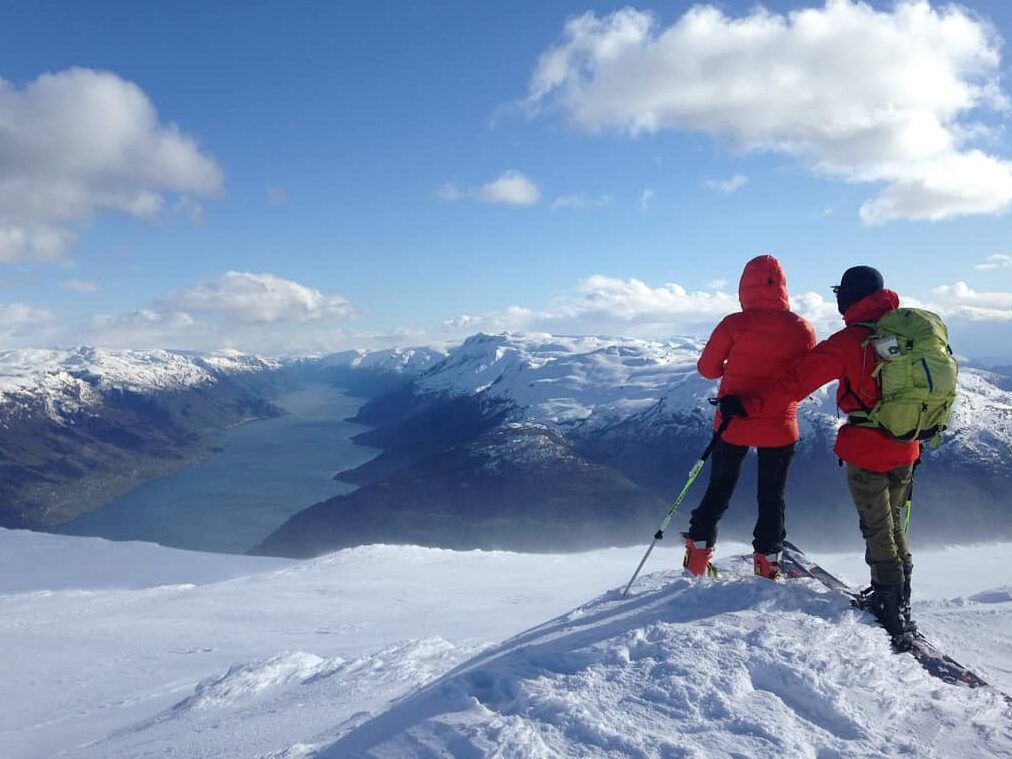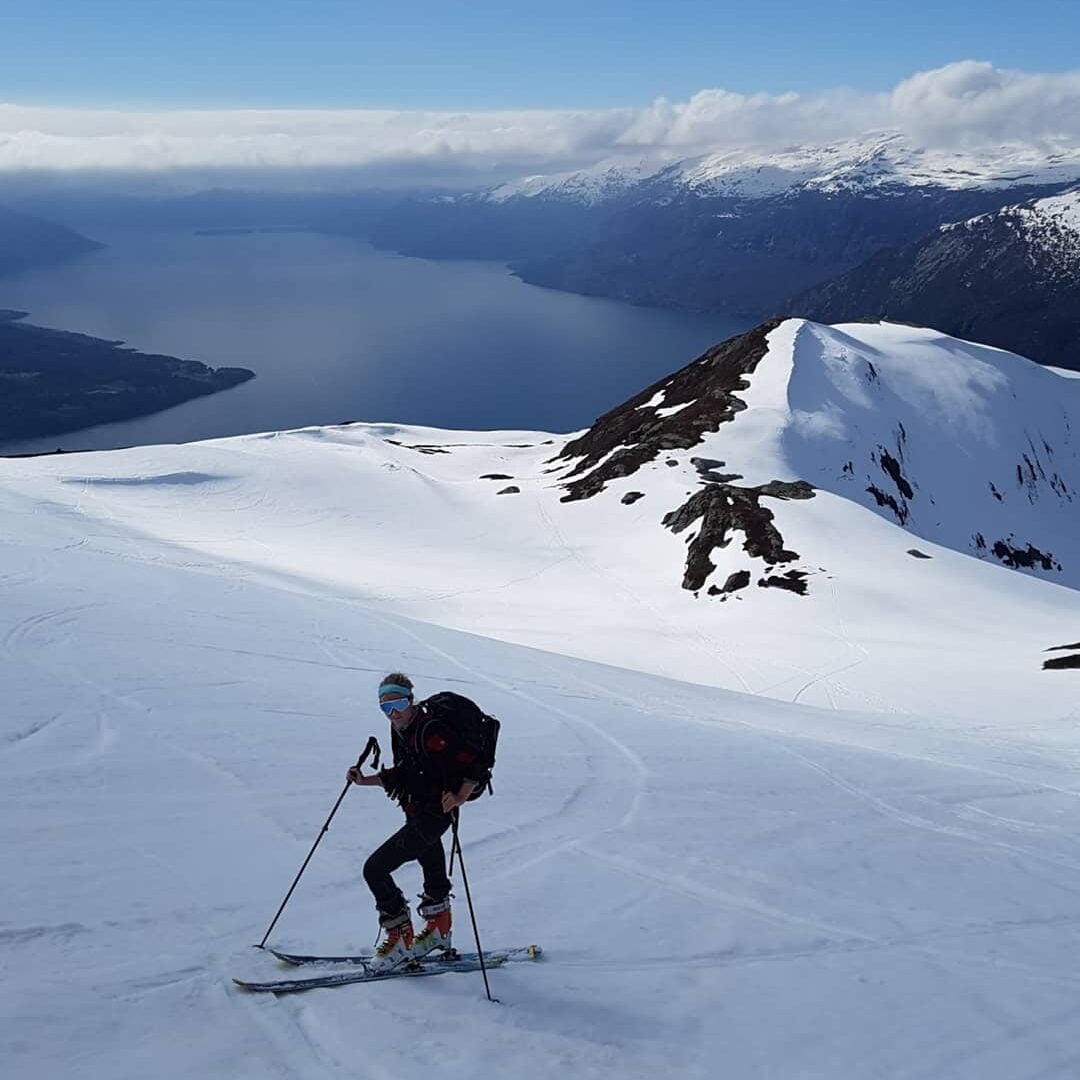 Rambera. Panoramic view high above the Sognefjord.
Rambera is a big mountain area at the border of Voss, Vik and Fresvik. It has very interesting terrain in close proximity to the Sognefjord and the glacier of Fresvik. This is a wild and not very trafiqued area. Getting there is not exactly easy, the access road is a steep tractor road, that can be a challenge for several cars. Rambera offers almost endless skiing possibilities, from mellower routes that follow mountain farms, to steep culouirs. We choose this route, because it gives an awesome panoramic of the surrounding mountains opposite to the fjord. At the same time, you get an amazing fjord view for half of the hike and a really beautiful ramp for cruising down in spring snow. You can find more detailed information about this tour in our PDF mini guide to skiing in Voss, further down the page.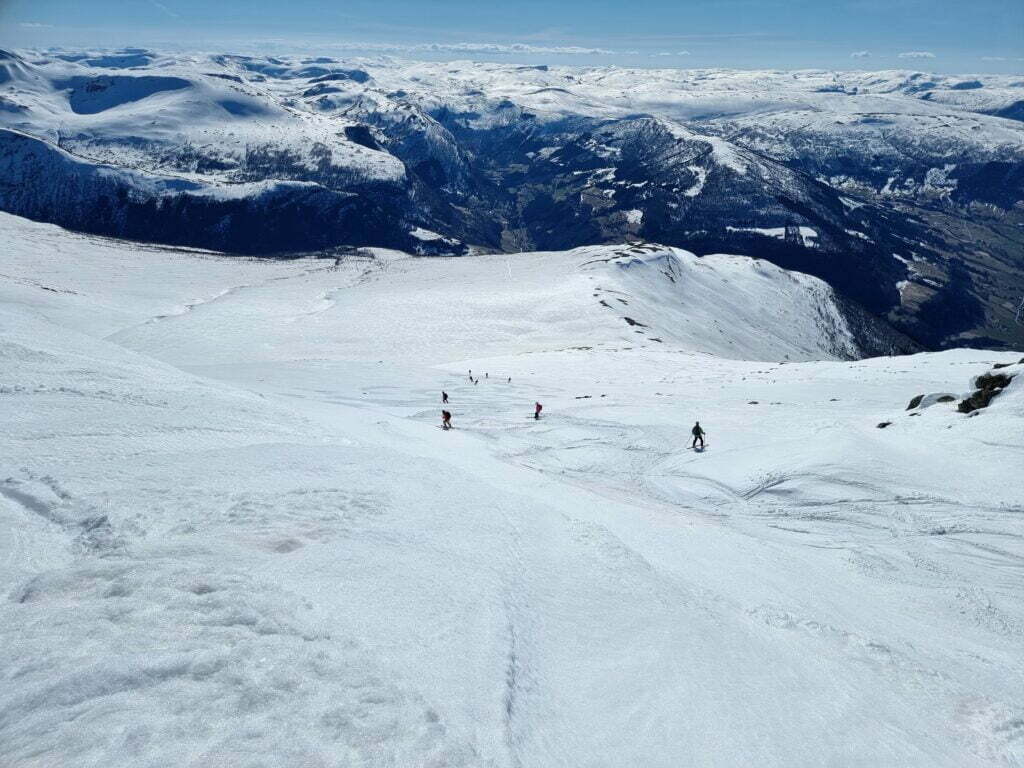 A PDF mini guide to ski touring in the region Voss.
Wild Voss has a downloadable PDF with 4×3 ski touring tour descriptions. They are thorough, have a map with marked routes and evaluation points of possible dangers. This micro guide has 4 categories and 3 tours per category (hence 4×3). One of the categories is actually ski and train in Raundalen. Here you can download the PDF. Please consider that it is in Norwegian. However with the pictures, maps, statistics and a bit of help of google translate, we believe it should be more than enough for setting you on the right track.
Interested on a guided ski touring experience?
Our guides will make sure they find the right objective for you, considering your level, your ambitions and the actual conditions. Learn about safe travel, avalanche terrain and what to consider when making your own decisions in the backcountry, while skiing with a close and personal guide. We organise customise multi day trips. Do you have some questions? Do not hesitate on writing to us at post@wildvoss.no