Wild Voss lets you escape into free nature.
Wild Voss takes you on excursions into free nature – all year round. The mountains of Voss is where we feel at home. Our guided trips takes you to where wild nature meets local culture. We create memorable experiences for our participants by combining beautiful scenery, rich local history and tastes of locally crafted food on our trips.
What do we do?​ ​
Wild Voss takes you away from the buzz of your daily routines and into free nature. We want you to take part in our most important goal: to share the joy of travelling safely in free nature. On our trips you are a participant – not a passenger. Our guides like to share their knowledge and stories. This allows you to get closer to your surroundings and will enrich your experience. ​
​We believe that the richest experiences are to be found in unspoilt nature. This is why most of our trips visit pristine nature scenery, away from roads, houses and groomed tracks. This requires more effort from us all, but it also makes the trips more rewarding. Participants on our trips will see beautiful nature, learn something fascinating and feel close to nature.
Our guides know the area well, having spent a lot of time pursuing outdoor activities all year round. This is where they feel at home. Their competence and love of the outdoors will ensure a safe trip and a memorable experience for you and your friends.
---
Who are we?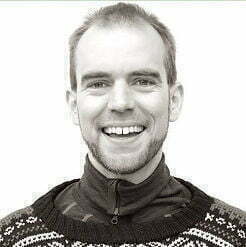 Øystein Ormåsen
Øystein is the founder and manager of Wild Voss. He has two sons, and is married to Birte. Øystein has spent more than half his life in the fjord nature of western Norway, but was born and raised on the south east coast, in a small town called Langesund.
After studying information technology, economics and mathematics, Øystein worked as an upper secondary-level teacher in Bergen for seven years prior to moving to Voss in 2014. After spending most summers running climbing and glacier courses and guiding in the mountains, he felt it was time to pursue his dream of turning his hobby into full-time employment. Wild Voss was established during the fall of 2015.
Øystein is an NF-certified avalanche instructor and climbing instructor. He is also part of the Norwegian avalanche warning service, delivering field observations to the team producing daily avalanche bulletins on varsom.no. Since 2004 he has led numerous trips and courses in the mountains of southern Norway.
​
Øystein is engaged in local politics, being an active member of the local Green Party. He is also an elected representative for the Greens in the city council of Voss.
---
Carlos Abraldes Szigriszt
Carlos comes from the Basque country, in Northern Spain, and grew up between the Atlantic shores and the steep Pyrenean hillsides.
He first landed in Norway in 2014 to work as a tour guide. After three years in Vestland he moved to Chamonix to work as e-commerce manager for a climbing shop. He later returned to the Fjord region of Norway to do what he does best: taking you to the soul of our landscapes hiking, climbing or on skis. Carlos has now become a true Vossing.
Carlos is NF certified Avalanche instructor, mountain climbing instructor and is well on his way to achieving his certification as a glacier instructor.
From time to time, Carlos misses the steep couloirs and ridges of the Val d'Aran and Chamonix. At the same time he gets very excited climbing Norwegian granite and is in love with life in Voss. He cannot think of a better place to be a father of a small kid and be very active in the mountains.
Carlos speaks fluent Spanish, French, English and Norwegian.
---